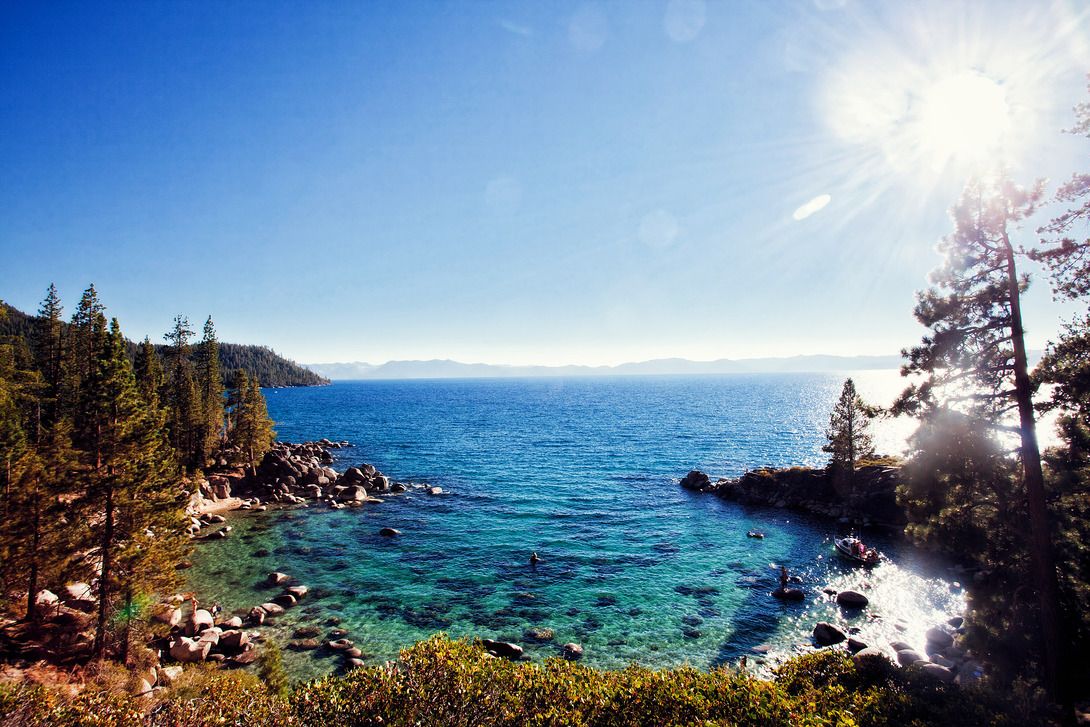 Lake Tahoe's Secret Cove has often been described as one of Lake Tahoe's most beautiful beaches.  This world famous nude beach, with its pristine crystal clear waters is a welcoming escape for those seeking the alpine summer sun. 
Although reaching Secret Cove Beach may be a challenge for some- the steep path to it's granite beaches and turquoise shores provide some of the best views of Lake Tahoe.   
Secret Cove is just one in a string of secluded beaches that line the north east shore of the Lake Tahoe.  It's a place where everyone is welcomed. Here you will find everyone under the sun. From straight to gay and bi-sexual, to young and old and people of every race and culture- EVERYONE is friendly. As long as you behave and respect the beach, you too will be respected in return.
The LGBT community tends to take up the south end of the cove, as well as the outcroppings of rocks that jet out into the lake. The reasoning is not one of exclusivity or privacy- but rather because we tend to be the rowdier ones in the crowds.  Here at the outcroppings you will find hundreds of massive boulders perfectly placed for nude sunbathing. And if you desire a little more privacy, the boulders provide that too. 
For me, Secret Cove has always been a place for me to find serenity.  It's a place to find comfort in nature, or that perfect boulder to say goodnight to the romantic sun as he ignites the sky in a dazzling display of colors.
I am always one to honor my body.  I work out regularly and maintain a healthy diet.  I also find no shame in stripping down to my birthday suit when surrounded by friends.  Here you will rarely find the creepers that one tends to find at other nude beaches- for no reason other than the trails to the beach are too steep and difficult to find for the inexperienced.
Having grown up in Northern Nevada, I found that many people often take the lake for granted.  Some have never even made the half hour to 45 minute journey from Reno or Carson City- which makes those stories even more tragic.
It is one of the most beautiful natural places in the world. It is truly the Crown Jewel of The Sierras. And I don't just say that because I grew up in its shadows, but rather I say so because it is prized for its beauty.  
The beach has an "Honorary Mayor" - who along with the locals who appointed him, is very serious about maintaining the beach clean and keeping sexual activity off the beach.  Cameras are frowned upon, as is hiking nude along the trails. And in case you forget, someone will always gently remind you that everything you pack in- you must also pack out.  
Alcohol, or glass is not allowed on state beaches- so be sure to pour your Stoli Cosmos into a sippy cup or don't bring them at all.  I've been told that as long as you remain in fair control of your alcohol consumption and can make your way out of the area unassisted, you should be fine with a drink or two- just be mindful that the high alpine altitude and summer sun can intensify it's effects.  And always have a designated driver.
Make sure you pack a solid pair of shoes for the trails and water shoes or flip flops for the beach.  Going down is the easy part, but coming out after a day of fun in the sun can be exhausting.  Always stay on marked trails, and stay away from the upper rim- which will be clearly marked for first time visitors.  This area is particularly dangerous- both for you and the nude sunbathers below.
On occasion experienced boaters may pull into the cove- as was my last visit to the cove. But only experienced boaters should attempt this.  
If a nude beach is not your cup of tea, nearby one will find Sand Harbor State Beach, Chimney Beach just north of Secret Cove and to the lesser known Creek Beach, Boaters Beach, and Whale Beach. 
Sand Harbor serves as home to one of the most dramatic settings in the world to hold an theatre festival. The theatre, built just feet from the shore, with the majesty of Lake Tahoe as it's backdrop holds the Lake Tahoe Shakespeare Festival each year during the month of July and August.
It is the perfect place to indulge in a fine bottle of wine, a gourmet dinner and be enchanted by some of the world's best actors performing Shakespeare's great works. At the festival, you will feel the warm sand between your toes as the sun begins to set and the stage lights up in enchantment.